18
Jun
The United States and Chinese economies are becoming so intertwined with each other that it can be difficult to know where one begins and the other ends. U.S. companies have long enjoyed the cheap cost of manufacturing goods in China as well as the various opportunities associated with catering to the needs of 1.4 billion potential customers living there.
If you've glanced at any of our other blog posts, you know that the Chinese economy is growing rapidly. This means that companies who already have a strong presence in China are poised to take part in this growth as well. As an investor, knowing which companies are already dominating the Chinese business-scape could give you a leg up.
This is our list of U.S. companies with a large presence in China.
Nike has an interesting relationship with China. They're currently the leading manufacturer of sportswear in China, followed in market share by Chinese company Li Ning and then Adidas. Last year, Nike brought in $6.2 billion in revenue from the Greater China region which was an increase of 21% from the previous year (compare this with just 7% growth in North America). Mark Parker (Nike's CEO) has been particularly vocal about his excitement for their growth in China.
Nike has also boasted 17 consecutive quarters of double-digit revenue growth in the Greater China region.
Nike Basketball has been growing in popularity in China recently as well. However, they found themselves caught in between a controversy surrounding the NBA and China. The drama started after Houston Rockets GM Daryl Morey tweeted his support for the pro-democracy protestors in Hong Kong. Nike has largely kept silent on the matter so as not to draw the ire of the Chinse government.
Nike recently surprised investors by largely dodging the pain that coronavirus brought onto other businesses in China.
Apple shines in China's tablet market. According to consulting firm iResearch for example, Apple's iPad has a market share of 51%, followed by Lenovo and Samsung with 13.8% and 9.8%, respectively. Additionally, Apple currently sits at 4th in the country in the smartphone market in terms of market share. However, they have effectively no presence in China's operating system market.
Apple's larger tie to China is its supply chain, which is located primarily in China. This means that Apply relies heavily on China to create and ship its products. Despite being one of the few American technology companies to enter the Chinese market, Apple's relationship with China has had a rough going recently.
First, there was Donald Trump's trade war which threatened to impose tariffs on Apple products, force them to raise prices and potentially disrupt their supply line. Now, like most other companies, Apple is fighting the economic shutdowns triggered by the coronavirus. It's never good news when the country you rely on to create most of your products becomes the epicenter of a global pandemic.
Sprite (owned by Coca-Cola) is the number one soft drink in China, with a 26.9% market share. In total, Coca-Cola holds a 61.5% share of the Chinese soft drink market, followed by Pepsi. Right now, Coca-Cola has more than 40 factories in China, and they are planning to invest another $4 billion in plants and delivery trucks over the next few years (according to Bloomberg).
In most of the country, water is not free at restaurants. Many people figure that if you have to pay for a drink anyway, you might as well pay for a soda.
Coca-Cola clearly sees China as a huge opportunity and is creating the infrastructure needed to take full advantage of what this market has to offer.
According to Statista, in January 2020, there were 438 Walmart stores in China spread over 180 cities. Walmart's net sales in China amounted to just over $10 billion for that fiscal year. One important aspect to note is that when Walmart entered the Chinese market, they formed a strategic partnership with JD.com (China's second-largest eCommerce retailer). This has allowed Walmart to bolster their online sales in China. It goes without saying that this partnership with JD.com paid untold dividends during the recent pandemic and the following quarantine. In China, stay at home orders were much more strongly enforced than in the United States. People were solely reliant on eCommerce to get their products.
In the upcoming year (2021), Walmart is expected to open 250 new stores internationally. Most of these will be located either in Central America or in China.
According to Forbes, Boeing is currently sitting at a 50% share of the Chinese commercial aircraft market. It's safe to state that, right now, Boeing's business is definitely struggling due to the coronavirus and their issues involving the 737 Max. Boeing was hit harder than most companies by the coronavirus because all flights were essentially grounded. People were strongly encouraged not to travel at all and international borders have been closed. If people aren't flying, then businesses aren't buying new planes.
That being made clear, they're still Boeing (meaning that they're the world's largest aerospace company and do about $80 billion in revenue). In a longer-term context, they expect the aviation market in China to more than triple over the next 20 years, which will require an additional 5,000 planes (valued at $600 billion in revenue).
Boeing and China have a mutually symbiotic relationship. By that, we mean that they're each other's top customers. According to Boeing-China President David Wang, speaking to CNC World, "China is already Boeing's biggest customer outside of the United States and Boeing is the largest purchaser of made-in-China aviation parts and components."
Despite all of the hype surrounding Tesla's stock price, General Motors is still one of the dominant players in the global auto market (4th in terms of global sales). They're also the top-selling brand in China and are looking to expand in the country.
GM is slowly becoming a veteran in China. They sold more vehicles in China than in the U.S. for the first time ever back in 2010. At that time, China accounted for a quarter of the company's global sales. GM is also able to operate efficiently in China because they formed a number of joint ventures (including a particularly successful one with SAIC Motor).
Additionally, GM saw double-digit year-over-year growth in China in April 2020, despite being set back by the coronavirus. To help combat the virus, GM gave away free masks at their locations and hired prominent social media influencers to help promote their new models.
Of all the companies on this list, Microsoft probably has the bleakest relationship with China. This is because it's very difficult for technology companies to break into Chinese markets (Apple is the exception that proves the rule). This is because of two reasons:
China has very different laws when it comes to digital privacy compared to the U.S. and therefore, the Chinese government has different expectations as to how a company like Microsoft will act when it comes to disclosing user data to the government. Microsoft has to make a stand to protect their consumers or else they will risk losing their United States consumer base, with the obvious implications this brings about
There has been a history of Microsoft products being ripped off in China. Brad Smith, the current president of Microsoft, even went as far as to say, "It's not hard to find Microsoft software in China and even in Chinese government institutions. It's a lot harder to find Microsoft software that Microsoft has been paid for." Industry insiders believe that growing tensions from the trade war could be leading to a "tech cold war" between the two countries (according to Geekwire)
Microsoft dominates the PC operating systems market in China but only sees a fraction of the revenue that they should. Despite the massive sales that they do in China, the country only makes up 1.8% of Microsoft's revenue.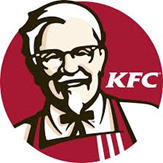 KFC (owned by Yum Brands) is the most popular fast-food restaurant in China. They currently have 5,000 restaurants sitting in 1,100 cities in China and hold 11.6% of the market share (compared to McDonald's, which has 5.6%). KFC is another company that isn't new to China, as they were the first American fast-food chain to enter the country in 1987.
Due to its popularity, the company plans to increase the number of restaurants in China to 20,000. According to a study done in the Harvard Business Review, KFC's success in China is mainly a function of their success in adapting the restaurant experience to fit Chinese culture. This involves doing things such as:
● Offering a traditional Chinese-style breakfast
● Hiring Chinese managers who speak as well as also read and write in English to help bridge the gap
● Training employees in a manner that's attractive to Chinese culture (even if it deviates from Western standards)
Starbucks opens a new store in China every 15 hours and is currently the world's largest coffee chain by sales. In China, the company has a nearly 70% market share and 3,000 stores across 136 cities. They also have over 600 locations in just Shanghai alone. Starbucks announced a same-store sales growth of 8% in China compared to just a 2 percent growth of global stores. Starbucks CEO Kevin Johnson has gone on record saying that, "If you look at the growing middle class in China and the opportunity for more and more people to frequent Starbucks, we can build stores in China for decades and still have runway to build more."
China is also located just north of the world's second-largest exporter of coffee beans, Vietnam. Vietnam produces a whopping 1,650,000 metric tons of coffee each year. If Starbucks needs extra coffee beans to fuel their growth, they won't have to travel very far.
It's also worth noting that another major Chinese coffee brand Luckin Coffee has recently come under fire for forging the majority of their sales. The scandal involved fabricating online order numbers. With China's next largest coffee rival now out of commission, Starbucks is in a good position to pick up the slack.
We hope that you've found this article valuable when it comes to understanding which US companies have a large presence in China. Should you be interested in learning more so as to (unlike the overwhelming majority of market participants) actually "get" China in a meaningful manner, we would strongly recommend visiting our New Here section or, to take things to the next level, let our team of consultants help you and/or your organization.